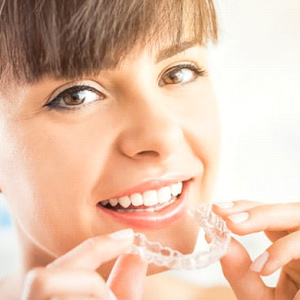 Modern braces have been around since the 1970s and are a proven method for straightening even the most complex of teeth.
Growing up, you likely either knew someone with metal braces or had them yourself. They were sort of like a rite of passage in childhood.
Braces were the household name for orthodontics…
That is until Invisalign® came in the picture.
Invisalign® checked all the boxes people were looking for in an alternative to braces, such as being less visible, removable, and not painful. But the question was:
Does Invisalign® work? And is Invisalign® as good as braces?
After all, your goal is a straight smile, and what good is it if Invisalign® doesn't work.
So, to answer the question if Invisalign® works and if Invisalign® is as effective as braces, our dentist in Centennial has laid out the truth about Invisalign® and how it works.
Does Invisalign® work?
When Invisalign® clear aligners were first introduced, they were most effective at treating only minor cases – more severe cases needed to be treated with braces.
However, the technology behind Invisalign® has skyrocketed in recent years.
With advanced technology and the use of attachments, buttons, and elastics, Invisalign® can be just as effective as braces.
Invisalign® or "invisible braces" can effectively treat simple, moderate, and complex cases. Treatable cases with Invisalign® include:
Overbite: When your upper front teeth overlap with your lower front teeth.
Underbite: When your lower front teeth are in front of your upper front teeth.
Crossbite: When some of your upper teeth sit inside your lower teeth.
Gapped teeth: When you have extra space between your teeth.
Open bite: When your upper and lower teeth don't touch.
Crowded teeth: When your teeth don't fit in your jaw normally, they can tend to bunch up, overlap, twist, or get pushed to the front or back.
Generally straighter teeth: When you need little fixes to improve your smile.
For severe cases, braces may be the best method, which may include the assistance of spacers, expanders, or headgear.
To find out if you are a candidate for Invisalign®, schedule a consultation with our cosmetic dentist.
Do I really have to wear Invisalign® for 22 hours?
One reason Invisalign® may not work is YOU.
Patient compliance is an essential part of how successful Invisalign® treatment will be.
For example:
Braces are permanently placed on your teeth and can only be removed by a dental professional. That means they gradually straighten your teeth 24 hours a day, seven days a week.
But for Invisalign® to work and be as effective as braces…
You must wear your Invisalign® aligner trays for at least 22 hours a day.
"What happens if I don't wear my Invisalign® aligners for 22 hours a day?"
Here are a few things that can happen if you don't wear your Invisalign® enough:
Your teeth could take longer to straighten.
Your treatment could take longer to complete.
You could end up with no results.
You could undo some of the progress you have made.
You could cause yourself discomfort.
You should only take your aligners out to eat, drink, brush, and floss. Otherwise, Invisalign® won't work like it is supposed to.
What's the difference between Invisalign® and other clear aligners?
Invisalign® is the only clear aligner system that uses SmartTrack® material. This material is comfortable and flexible and can speed up treatment time by 50% with 75% more predictability. Who doesn't want that?
Plus, Invisalign® is the most popular option with more than 6 million patients.
Is Invisalign® better than braces?
So, does Invisalign® work?
If you are a candidate for Invisalign® and commit to wearing your trays for 22 hours a day, then:
Yes! Invisalign® is better than braces!
Why?
Average Invisalign® treatment time is faster than braces.
You could start seeing results in 5-10 weeks.
Invisalign® is virtually invisible (no metal).
You can remove your aligners to continue eating your favorite foods.
Aligners made with SmartTrack® material are comfortable (no pokey wires or brackets).
Isn't it time you loved your smile?
Our cosmetic dentist, Dr. Cote has transformed countless smiles with Invisalign® in Centennial.
Schedule a consultation today and see the potential your smile has with Invisalign® treatment.
CALL US TODAY
EMAIL US TODAY