Dental Implants – Centennial, CO
The Closest Alternative to Natural Teeth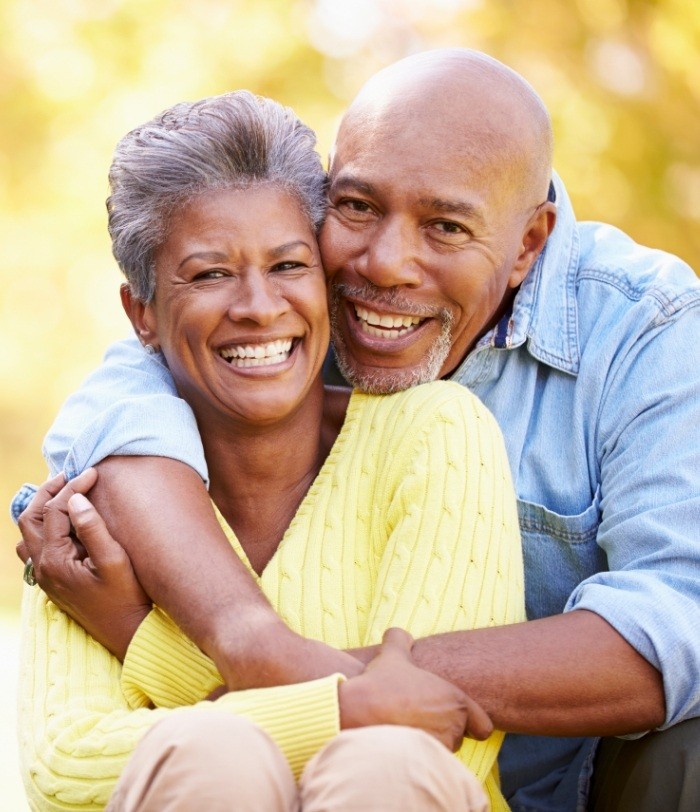 At Homestead Dental, we have a streamlined, coordinated dental implant process where we partner with a local oral surgeon to restore smiles using this leading-edge tooth replacement. Dental implants allow us to replace not just the visible surface of missing teeth, but also the vital root structure located below the gumline. Now known as the golden standard for tooth replacement, dental implants are a popular choice among our patients because of the wide array of benefits they offer. Call us today if you're interested in scheduling a consultation for dental implants in Centennial - the closest alternative to your natural teeth!
Why Choose Homestead Dental for Dental Implants?
Streamlined Collaborative Process with Local Oral Surgeon
Dental Team Experienced in Full Mouth Reconstructions
Fully Digital Implant Denture Treatment
What Are Dental Implants?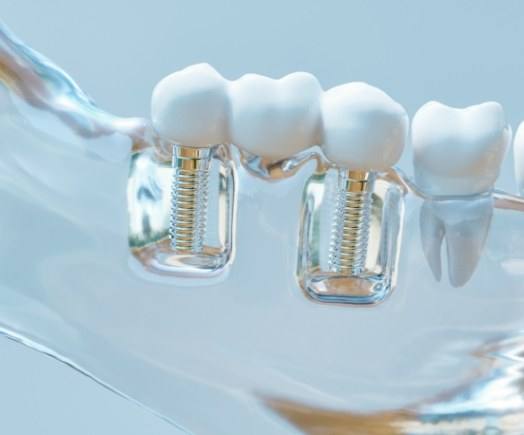 Dental implants themselves are small posts that are typically crafted from titanium, ceramic, or zirconia. These materials are all biocompatible, allowing them to fuse with the jawbone through a process called osseointegration once the implants are inserted below the gumline. This allows the implants to supply the bone with much-needed blood flow and support, allowing this treatment to prevent jawbone erosion and facial shape changes in the future.
The 4-Step Dental Implant Process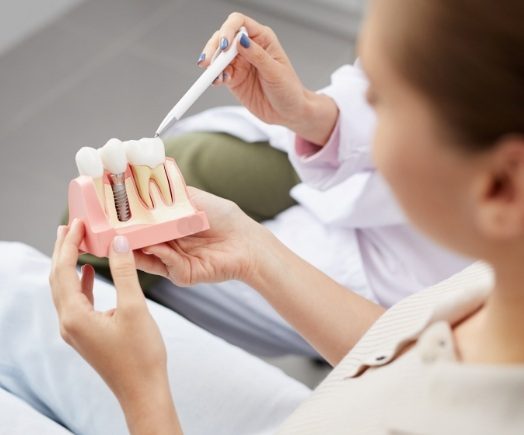 Consultation. Your initial consultation will include a thorough evaluation of your mouth and a discussion about your goals and expectations for the dental implant process. We like to help our patients paint realistic pictures of the future, so we'll discuss the treatment with you once we've had a chance to determine important details, like how many dental implants you'll need to have placed and what prosthetic we'll use to restore your smile. Once you agree to move forward with treatment, we'll help you schedule your dental implant surgery.
Dental Implant Surgery. We partner with a local oral surgeon for this part of the process. But don't worry, we've developed a streamlined and collaborative plan that will make it feel as though you've never left our office! After your implants have been placed, you'll return to our team to complete your smile.
Osseointegration & Abutment Placement. One of the most crucial parts of your treatment is osseointegration, where over the course of three to six months after your surgery, your implants fuse with your jawbone. This provides a strong and stable foundation for your prosthetic to be attached to. Once this has occurred, we can attach an abutment, which is a small metal connector piece atop your implants.
Attaching the Final Restoration. After your gums have healed around your abutments, we can attach your final restoration, completing your treatment and restoring your smile.
Benefits of Dental Implants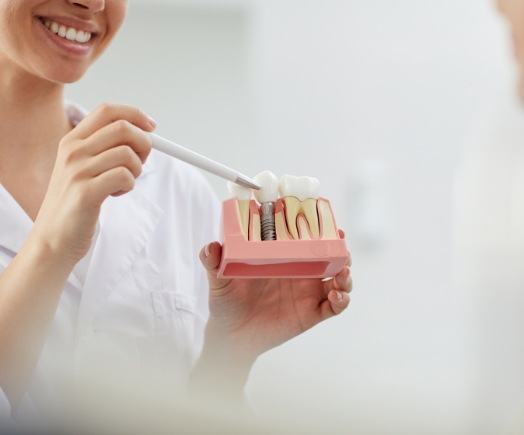 Dental implants are such a popular choice among our patients because they offer unique benefits that set them apart from traditional treatments for tooth loss. Some of these include:
The ability to last 35+ years with proper maintenance.
Easy to care for.
Up to 80% restored bite power.
Improved eating and speaking abilities.
Natural looking and feeling replacement teeth.
Streamlined, versatile process that can replace one or more teeth.
Who Dental Implants Can Help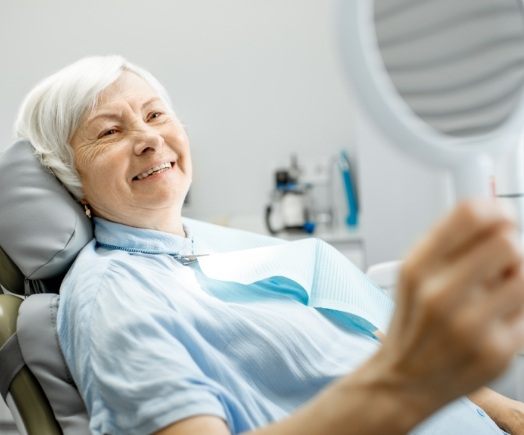 This treatment is incredibly flexible, allowing us to use dental implants to anchor a crown, bridge, or denture within the mouth to replace any number of missing teeth. During your initial consultation, our team will explain which of the three pathways listed below that we plan to take to rebuild your smile.
Missing One Tooth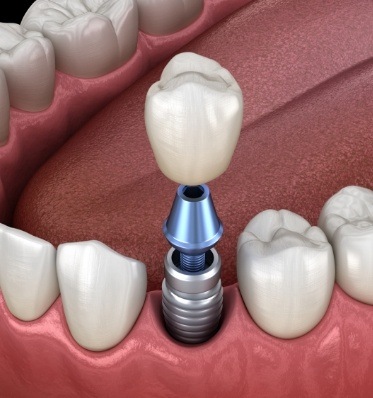 If you're missing one tooth, we can secure a single dental implant below the gumline. Once it fuses with the jawbone and the abutment is attached, we can secure a free-standing dental crown to it, restoring your missing tooth.
Missing Multiple Teeth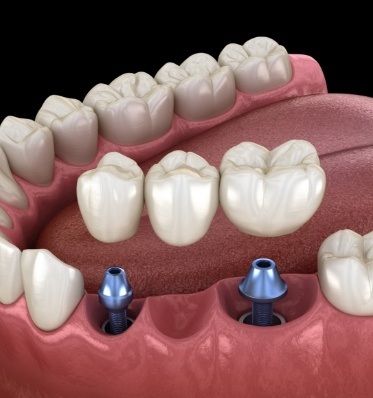 Instead of needing to secure a traditional dental bridge to your natural, healthy teeth, we can place two dental implants at either end of a gap in your smile left by two or more teeth. These will hold the prosthetic in place, providing a less invasive alternative to receiving a traditional bridge.
Missing All of Your Teeth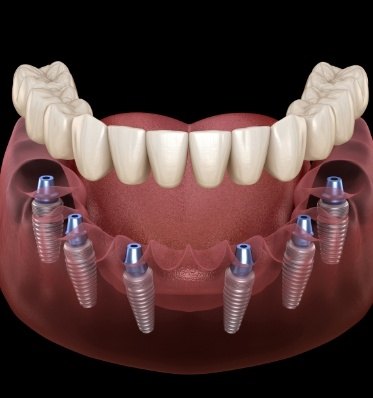 For an entire arch of missing teeth, we can secure dentures to anywhere from four to eight dental implants strategically located across the gumline. Because they'll be anchored to the implants, you won't experience any slipping or shifting when you eat or speak.
Understanding the Cost of Dental Implants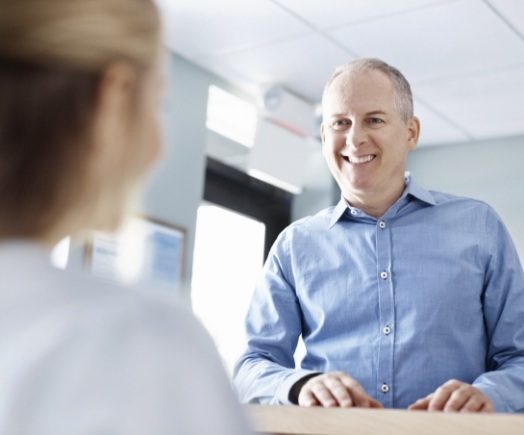 There's no set price tag associated with the dental implant process because the cost can vary based on several key factors, including how many dental implants you need to have placed, whether you require preparatory treatments beforehand, and what prosthetic you require. Once our team determines this information, we can walk you through a detailed cost estimate as well as your treatment plan so you know what to expect.