Meet Our Dental Team – Centennial, CO
Get to Know Our Friendly Team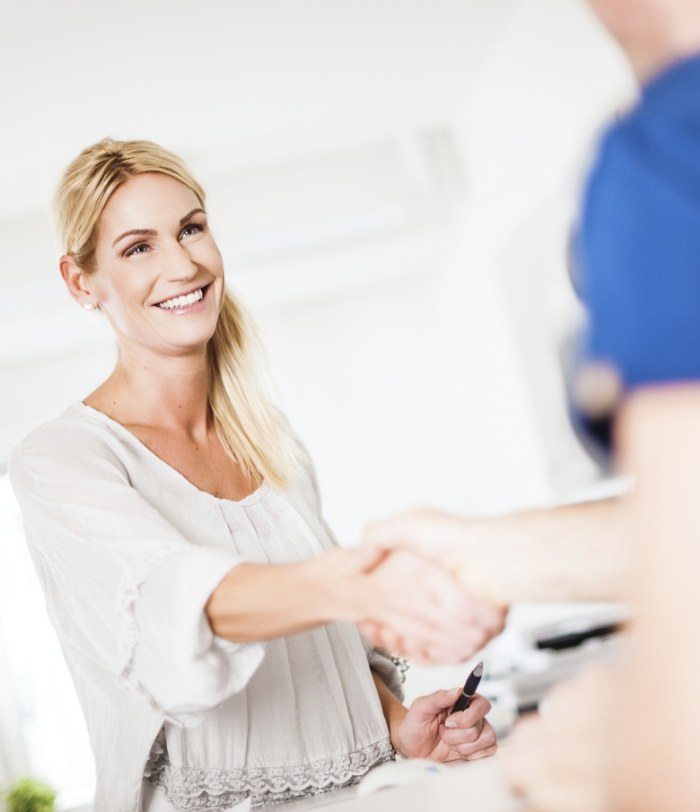 Our team is at the heart of our dental practice. They're dedicated to getting to know each patient they treat and take the time to understand their individual needs. We have 11 team members in total, and most of them have been at Homestead Dental for a long time. We welcome you to learn a little more about our Centennial dental team members by reading their biographies below.
Lindsay, Dental Office Manager
For over fifteen years now, Lindsay has been our practice's stellar office manager. Her extended time in the role has given her a lot of expertise in keeping our team functional. More crucially, she likes working with caring doctors and staff who prioritize patient care.
Though Lindsay grew up in Highlands Ranch, she has family all over the Denver area. She, therefore, enjoys hanging out with them in her downtime. Otherwise, you'll find her pursuing hobbies like traveling and DIY projects. One fun fact about her is that she's been a patient with us since she was six years old!
Katia, Front Desk
Though new to our front desk, Katia has worked in the service industry for over eight years. That fact and her degree from the University of Colorado Boulder mean she's excellent at her job. Plus, she just recently started dental hygiene school in Denver! As such, her background allows her to work joyfully with the rest of our team.
Originally from nearby Lakewood, Katia is close to both her immediate and extended families. Growing up with them allowed her to practice horseback riding, winter skiing, and other outdoor activities. Something that sets her apart, though, is that she once swam with whale sharks in the Philippines.
Carol, Business Assistant
Carol is an excellent business assistant, one who's worked with us for quite a while. In fact, she's honed herself on the job for nearly thirty years now! The time was well-spent, however; she loves watching patients grow from tykes to adults and has built many friendships with them.
Of course, that almost-familial care extends to her real-life family, too. She's lovingly raised her three children into well-formed grownups. More recently, she's also gotten to dote on her granddaughter.
Erin, Dental Assistant/Front Office
Between her roles as a dental assistant and front office helper, Erin has greatly contributed to our practice. She's certified in the former job, after all, and uses her college degree to excel in the latter one. These efforts, in turn, allow her to enjoy easing patients' anxiety and increasing their comfort levels.
Erin is a Colorado native, born and raised in Manitou Springs. She currently lives with her husband, son, and two wonderful dogs. Her hobbies are camping, boating, dirt bike riding, and yoga. Surprisingly, though, she's never learned to ski despite living in Colorado her whole life!
Anny, Dental Assistant
Anny has worked as a dental assistant for over 20 years now. She thus has loads of training and experience, including X-rays and nitrous oxide certifications. Meanwhile, her efforts in continuing education have allowed her to improve her skills and stay relevant in the field. She's happy to pursue that knowledge, though, as she finds helping patients exciting and purposeful.
Specifically, Anny hails from out of state – Anderson, Indiana. She spends her home life with her husband, college-aged son, and two corgis. At the same time, her delightful passions are hiking, walking, and outdoor exploration. On a calmer note, she'll also read mystery novels and sometimes practice knitting.
Megan, Dental Assistant
Megan is one of our newer dental assistants, but she's worked in the field for over seven years. Her certification from Pima Community College proves that she knows her stuff. Even now, though, she's studying to get her associate degree and become a dental hygienist. Her hope is to continue working with patients and restore their confidence with a beautiful smile.
Having grown up in Littleton, Megan spends many off-hours with nearby family. That roster includes her boyfriend, son, brother, three step-siblings, and two dogs. She'll go camping or to the dog park with them when possible.
Debbie, Dental Hygienist
In her nearly 25 years of dentistry work, Debbie has spent the last six as one of our top dental hygienists. That much is natural, as she has a Dental Hygiene degree from the University of Iowa and is CPR certified. This education allows her to connect with patients, making her job worthwhile.
Today, Debbie pursues a variety of hobbies outside the office. Chief among them is time with family, which includes her husband, three adult children, and granddaughter. That said, she'll also pursue activities like running with her dog, hiking, reading, and watching college football.
Jenny, Dental Hygienist
Jenny is another of our team's amazing dental hygienists. She's been with us for over eleven years, further solidifying the knowledge gained from her degree at Forsyth School of Dental Hygiene. Despite the passage of time, though, she still loves working with our office's supportive dentists and the gratification of a job well done.
Jenny is originally from Lynnfield, MA, so she's traveled a bit to work with us. Today, she lives with her husband of 22 years, two sons, and two yellow Labrador Retrievers. When not in the office, you might find her walking her dogs, watching her sons play soccer, cooking, or visiting family back in Massachusetts.
Kalli, Dental Hygienist
Kalli is a great dental hygienist who's been with us for the last thirteen years. Along with her dental hygiene degree from the University of Minnesota, she also has local anesthesia and CPR certifications. The result is that she's well-equipped to build relationships with patients and help enhance their oral health.
Raised in nearby Highlands Ranch, Kalli likes to be with family when she's not working. That's only natural; she has a wonderful husband and three stellar kids. She'll often join them on travel adventures to the beach, mountains, and wine country!
Kristan, Dental Hygienist
Kristan is a relatively new dental hygienist with our practice, yet she's already made her presence known. That fact likely stems from her education at Parkland College and Eastern Illinois University. While studying at those schools, she earned a degree in dental hygiene and a Diode Soft Tissue Laser certification. Furthermore, she combines her knowledge with a love of helping people in the dentist's chair.
Kristan is currently married and has three terrific daughters. She loves spending time with them, baking, reading, and walking her dog. A lesser-known fact about her is that her high school graduating class only had forty-one people, with a bunny as their mascot!
Susan, Dental Hygienist
Susan is a top-tier dental hygienist who's worked with our team for over 35 years. Naturally, her decades of experience make her very knowledgeable and skilled! She's only improved in her work since she first graduated from Dental Hygiene School at Sheridan College. That boost has only helped her enjoy working with patients all the more.
Susan grew up with four sisters in Sheridan, Wyoming. Fortunately, three of them now live nearby in the Denver metro area. She loves spending time with them here in Colorado, not to mention playing golf and pickleball.