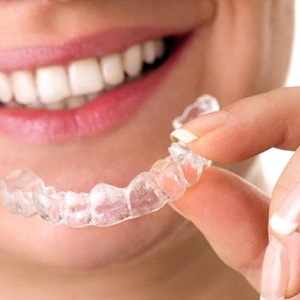 Why is Invisalign so popular?
The Invisalign is an effective treatment system that has so many benefits that make them stand out from traditional braces and their clear aligner competitors.
Invisalign aligners:
Are nearly invisible
Allow for more predictable results than competitors
Are more comfortable than braces and all the other clear aligner brands
But one of the most common questions people ask is:
Can you eat with Invisalign?
We'll answer that for you and more in this blog!
Keep reading to learn more.
Can you eat with Invisalign?
Yes, but not while you're wearing your aligners!
One of the other top benefits of Invisalign is that the aligners are removable.
There are no dietary restrictions, unlike traditional braces.
When you get braces, you have to be so careful with what you eat.
You have to avoid several foods and drinks such as:
Popcorn
Sticky candy
Gum
Hard cookies or crackers
Sticky or hard chocolate
AND:
You have to avoid biting into hard foods with your front teeth.
Because of these restrictions, you have to cut these foods into smaller pieces:
Hard rolls
Sub sandwiches
Burgers
Thin pizza crusts
Meat, like well-done steak
Raw vegetables
Corn on the cob
This is because the wires and brackets are quite fragile, making it easier to damage the hardware and popping one of the brackets off.
But with Invisalign, you can eat ALL of your favorite foods.
Just slide the aligners out whenever you are about to eat or drink anything (except water).
However:
It's crucial that you don't eat or drink while wearing the aligners because it'll damage the trays.
They can't withstand the pressures of chewing.
Plus, food particles and residue could stick onto the aligners causing bacteria to grow.
Do you have to brush every time you eat with Invisalign?
You should do your best to clean your teeth as thoroughly as possible after every meal or drink.
Brush your teeth or rinse your mouth out with clean water if you're able to.
If you can't, chew sugar-free gum to remove plaque and food particles from your mouth.
That will prevent it from getting trapped beneath your Invisalign aligners and sitting on your teeth.
Plaque buildup causes enamel loss, tooth decay, and gum disease.
So always take good care of your teeth.
And clean your mouth before putting your aligners back in!
Looking for an Invisalign dentist in Centennial, CO?
The best dentists in Centennial, CO are happy to help!
Our team will put your needs first and ensure that you're 100% comfortable throughout the treatment.
Dr. Andrew Cote will create a healthy, beautiful smile for you that'll last a lifetime.
He strives to always provide you with excellent care by perfecting his craft through continuing education and professional associations.
Dr. Cote is a proud member of the following cosmetic dental organizations:
You'll be in great hands with Dr. Cote's expertise and caring personality.
Schedule an appointment today to see if you'd be a good candidate for Invisalign.
Call us at (303) 224-9400
Email us at info@homesteaddentalco.com