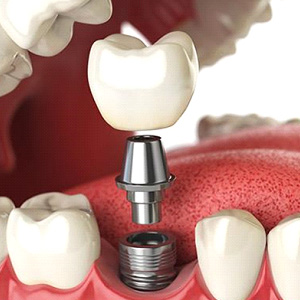 Are you thinking about getting dental implants to replace a loose or missing tooth but still have questions?
You may be wondering if they are worth it or how long they will last.
This blog covers all the details you need to help you decide that Homestead Dental is your best choice for dental implants.
So let's get started on your discovery of dental implants.
What is a dental implant?
A dental implant is a three-part structure to replace a cracked, damaged, or missing tooth.
An implant is screwed into the jawbone, which acts like the root, to anchor the artificial tooth, called a crown.
An abutment (the tooth-shaped piece) fits into the implant and holds the crown in place.
The crown is a custom-made tooth created to fit precisely and match the color of your natural teeth.
Crowns are designed to look, feel, and function like natural teeth.
How long will a dental implant last?
Generally speaking, dental implants are designed as a permanent solution to tooth loss and may last up to 25 years. However, the average life span is more than likely between 10 and 20 years.
It is also possible for dental implants to fail in a shorter period for different reasons.
So let's explore:
What can affect their lifespan
How to prolong their lifespan
What can affect the lifespan of a dental implant.
As we've already discovered, the lifespan of dental implants can be between 10 and 20 years if properly maintained and cared for. As with any dental treatment, different factors can reduce the time a dental implant may last.
Oral health;
How you take care of your teeth and mouth in general.
Lifestyle choices;
Your choices of food and drink as well as smoking.
Injury or damage;
Sports injuries or simply grinding your teeth.
Medical conditions;
Gum disease – Sleep disorders – Diabetes or Prediabetes.
Which teeth are replaced;
Different teeth have specific roles, such as chewing.
One or more of these elements can affect your oral health and how long dental implants last.
How to prolong the life of your dental implants.
How long your dental implants last depends on how well you look after your teeth and your overall oral health.
Dental implants can be cared for in the same way as your natural teeth. Brush them twice daily, and don't skimp on the flossing to keep your gums and teeth healthy.
Just because your teeth are artificial doesn't mean you shouldn't attend regular dental check-ups. Your mouth requires regular checkups to prevent additional damage to any natural teeth and your gums.
Even if you maintain high levels of oral hygiene, other factors can cause problems for your oral health.
The habit of smoking can affect recovery and the longer-term health of your implants, as well as your natural teeth and general health.
Alcohol can also affect any treatment recovery as it thins the blood. You should wait at least 72 hours after a procedure to consume alcohol.
Avoid hard or sticky foods immediately after a procedure. These can cause damage to newly placed implants and natural teeth.
Final thoughts
Overall, dental implants can be a permanent solution for missing teeth, but there are no guarantees.
The secret to keeping your dental implants around for the long haul?
Keeping your teeth and gums in tip-top shape. Practice good oral hygiene and visit the dentist regularly, and your implants will last for years to come.
Call today to discover more about dental implants and how to regain your beautiful smile.
CALL US: (303) 224-9400
Or:
Email us at info@homesteaddentalco.com
Homestead Dental is conveniently located in Centennial, CO
…Open a new window to Google Maps…
, and proudly serves our surrounding communities, including Highlands Ranch, Englewood, Lone Tree, Greenwood Village, and Littleton, CO.