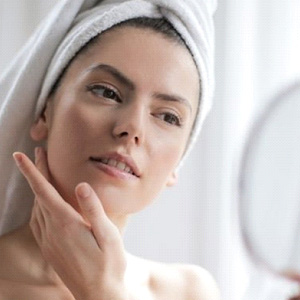 First, a quick background on what Botox is:
Botox is a cosmetic treatment used to reduce the appearance of fine lines and wrinkles. It's also used therapeutically to treat painful TMJ symptoms.
The main ingredient is botulinum toxin, which, when injected into your skin, blocks signals from the nerves to the muscles. This causes your muscles to relax and soften instead of contract.
Botox is FDA-approved, effective, and helps you look years – maybe even decades – younger.
The biggest downside is it's temporary.
To maintain your youthful appearance, you'll need to repeat treatment.
How often should you get Botox?
Let's find out!
We've outlined realistic expectations on the timeline of Botox, so you know what to expect.
The Botox timeline
For starters, you'll need to find a Botox provider.
If you want a natural-looking result, then it's essential you find a trained and experienced one. Otherwise, you may end up with that unwanted "frozen Botox look."
Keep reading for tips on how to find a good Botox administrator.
How long do Botox injections take?
The average Botox treatment takes around 15 minutes.
It's so short and easy that some people call it a "lunch-break procedure."
If it's your first time, it may take longer because the provider will need to discuss your goals and determine if Botox is right for you.
At Homestead Dental, we combine Botox with your dental visit for added convenience. Plus, no one has to know you're getting Botox – just say you're going to the dentist (it's the truth!).
How long does it take for Botox to work?
At the earliest, you may begin to see results within 24-48 hours.
However, you'll experience the full effect in one to two weeks.
If you have an event coming up that you want to be ready for, we recommend getting Botox at least 2-3 weeks in advance. This gives you time to view the final result and determine if you need touch-ups.
How long does Botox last?
Now the answer you've been waiting for:
On average, Botox lasts three to six months.
But let's break it down more:
Longevity varies from person to person
Some patients experience longer results in the 4-6 month range
Some patient experience shorter results in the 2-month range
It's not uncommon for first-timers to experience a shorter result the first time and a longer result the second time
Regular users may notice the results last longer over time because the muscles are shrinking
The reason you need retreatment is that the neurotoxins begin to wear off over time, and your nerves will send signals to your muscles again to start contracting – bringing back those wrinkles and fine lines.
How often should I get Botox?
To maintain your youthful appearance and prevent additional signs of aging, you should seek treatment as soon as you notice your wrinkles or fine lines reappearing.
Again, this is every 3-6 months on average.
Now, we're going to share a few secrets with you…
How can I make Botox last longer?
Here are a few tricks to increase the longevity of your Botox results:
Seek a skilled Botox injector (keep reading for more on this)
Avoid rubbing your face for 24-48 hours after treatment
Avoid strenuous exercise or heat for 24 hours after treatment
Limit sun exposure
Wear sunglasses and/or hats outside
Wear sunscreen
Find an effective skincare routine
Eat a balanced diet
Decrease your stress levels
Stop smoking
How to find the right Botox provider near you
Not all Botox providers are created equal.
The key things you should look for are training and experience.
For example, our Botox administrator, Dr. Andrew Cote, completed training in administering Botox® from the American Academy of Facial Esthetics
… This text opens a new tab to the official website…
Plus, as a cosmetic dentist, he has years of education and experience with the facial structure's muscles, tissues, and nerves. He knows exactly where to place your injections for the best result.
Not to mention, he uses needles every day and has gentle techniques (including anesthetic) to make the treatment painless.
If you find a deal for heavily discounted or cheap Botox treatments, chances are it's too good to be true. You're paying for the injections, not the expertise of someone qualified.
Other things to look for include:
Positive reviews
Before-and-after photos
Personal connection (do you trust and feel comfortable with this provider?)
Sterile office environment
Follow-up and touch-up appointments
Looking for Botox in Centennial, CO?
Contact Homestead Dental for a consultation!
In addition to Botox, Dr. Cote can discuss other ways to reverse signs of aging, including dermal fillers, teeth whitening, porcelain veneers, Invisalign, and more.
Our office is conveniently located in Centennial, CO and proudly serves our surrounding communities, including Highlands Ranch, Englewood, Lone Tree, Greenwood Village, and Littleton, CO.