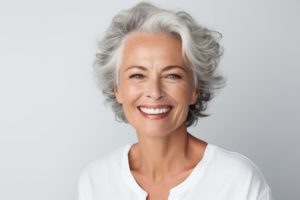 Many people get anxious when it comes to the dentist, which can be a real problem if you've been dreaming of a more beautiful smile. It's common for patients to worry that dental work will result in discomfort or tenderness. Thankfully, that is not always the case! There are ways cosmetic dentistry can makeover your grin without painful surgeries or lengthy recovery times. Continue reading to learn more about 3 popular, minimally invasive methods.
Method #1: Teeth Whitening
Bright pearly whites have become a common beauty standard in recent years. As a result, fading or stains can leave us feeling self-conscious. Fortunately, teeth whitening is a relatively simple and highly effective treatment. While there are plenty of over-the-counter products, there's really no substitute for whitening your teeth with your dentist. They have access to professional-grade materials that provide real results while minimizing sensitivity, so you don't have to worry about discomfort. Many dentists even provide take-home kits so that you can lighten your teeth from the convenience of your own home.
Method #2: Invisalign Clear Aligners
If you've been longing for straighter teeth but don't want to deal with the commitment of traditional metal braces, you're not alone. Fortunately, a more discreet, comfortable option is available. Invisalign aligner trays are made of clear plastic and fit over your teeth to gently push them into place. Generally, this treatment works faster than the traditional method and is often completed after only 12-18 months. Not only that, but it's much easier to remove aligner trays to brush and floss than it is to work around wires, brackets, and bands. That means that soon you can have a more uniform smile without much hassle!
Method #3: Cosmetic Dental Bonding
Minor chips, gaps, and discoloration can be repaired with pain-free cosmetic dental bonding. Using a tooth-colored resin, your dentist can fill or cover imperfections. This cost-effective method can be done in a single appointment so it's super convenient. Also, there's no need to prepare your teeth in advance or schedule multiple visits like with dental veneers. That makes this a fantastic way to handle flaws without invasive procedures.
Don't let your fear of dental work hold you back! There are several ways you can upgrade your pearly whites that don't involve intrusive surgeries. If you're still feeling anxious, talk to your dentist. They understand that many patients feel nervous and will work with you to put you at ease. They want you to feel comfortable throughout your appointment so that you leave happy and confident with the smile you deserve.
About the Practice
Homestead Dental has been enhancing patients' smiles for over 25 years. Our dentists are dedicated to getting to know you personally, to best help you find solutions that will improve your teeth and boost your self-confidence. They also complete over 100 hours of continuing education yearly, so you're sure to be treated using the most up-to-date equipment and methods. If you'd like to make an appointment, feel free to contact us on the website or by calling (303) 224-9400.