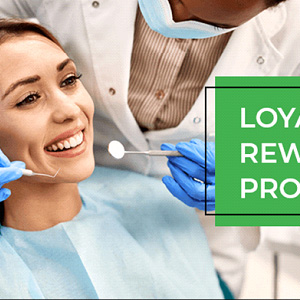 If you are one of the 130 million people in the country who don't currently have insurance, or if your employer is considering dropping your dental coverage, we have great news!
Our exclusive Homestead Dental Patient Loyalty Program provides great rewards without headaches.
Our Loyalty Program
We have created a way to make your dental experience more cost-effective. You can save hundreds of dollars a year on your procedures here at Homestead Dental by joining our membership program.
So, what made us want to offer this in the first place?
We value your loyalty and your health. We love serving our communities and want to encourage you to come back to us by offering you lower rates on your dental treatments.
Our patient loyalty program helps you save money while you achieve the bright, healthy smile you want. If you've been unable to justify certain procedures or treatments in the past, our loyalty program can help you save some extra cash so that you can make those important changes to your smile!
How Will I Benefit from the Loyalty Program?
No worries about claims
Just one annual membership fee to pay
Benefit from discounted prices at the dentist for most services/treatments
No limits to how often you can use the plan
A clear payment process (no technical insurance nonsense)
Receive a 15% discount on your treatments or procedures
What Does the Loyalty Program Cover?
Basically, this super deal covers all our services with just a few exceptions. You can find out all the juicy details by scheduling a visit.
As a bonus, this program includes FREE X-Rays as well as 15% off all our standard fees. This discount extends to our teeth whitening services.
What Isn't Covered in the Loyalty Program?
The only two procedures not covered by this incredible loyalty program are:
How Can I Join?
Each member wishing to take advantage of the loyalty program and claim the discounted prices just needs to complete a few forms and pay an annual fee of $125. You are then covered from day one, and can immediately benefit from the 15% discounted prices.
If you would like to know more about how you can save money on your dental procedures, contact us today to make an appointment.
Financial Options for Payment
To make things nice and convenient for you, we accept a wide range of payment options hoping to make our treatments affordable, including:
Cash
Check
Credit card (Visa, MasterCard, American Express, and Discover)
CareCredit
What is CareCredit?
Whether you use your healthcare credit card to pay for deductibles, or for treatments and procedures not covered by insurance, CareCredit helps make the dentistry treatments and procedures you want possible today.
This is a third-party dental and medical financing company that helps make costs affordable by offering low-interest rates and monthly payments.
Call us today to learn more about our Loyalty Rewards Program or how you can pay with CareCredit.
CALL US: (303) 224-9400
Homestead Dental proudly looks after smiles in Centennial, Highlands Ranch, Englewood, Lone Tree, Greenwood Village, and Littleton, CO.