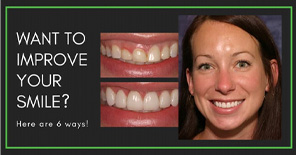 Want to improve your smile? Start here!
The first step to improve your smile is to learn about the different cosmetic dentistry treatments available and what ones are best suited for you.
In this blog, you will find the most popular cosmetic procedures with details like timeline, costs, benefits, and details you need to know.
Invisalign®
Botox®
Teeth Whitening
Porcelain Veneers
Cosmetic Bonding
Crowns
For specific information regarding our services at Homestead Dental, like how much we charge for our services, please contact us directly to schedule a consultation.
Ways to Improve your Smile with Cosmetic Dentistry
1. Invisalign®
Invisalign® is the modern way to straighten teeth. Instead of metal wires and brackets, Invisalign® uses clear aligner trays to straighten your teeth gradually.
Benefits
You will love Invisalign® because:
The aligners are virtually invisible!
You can remove the trays to eat, drink, brush, and floss
Treatment is often faster than traditional braces
It can straighten all types of teeth, including complex cases
It is available to both adults and teenagers
What you need to know
Invisalign® clear aligners must be worn for at least 20 to 22 hours a day. Failure to comply may result in adverse movements and longer treatment times.
If your teeth need severe movements, then Invisalign® may not be suitable.
Timeline
The average length of Invisalign® treatment is 12 to 18 months. This may be shorter or longer, depending on your case.
Cost
The average cost of Invisalign® is $5,000. However, this will vary from case to case and doctor to doctor.
If you have dental insurance, your treatment may be covered.
2. Botox®
Botox® can take years off your appearance by diminishing signs of aging, such as frown lines, forehead lines, and crow's feet. It works by relaxing the muscles that cause lines and wrinkles and smoothing out your skin.
With Botox®, your smile won't be overshadowed by signs of aging, and your confidence will be through the roof!
Benefits
Botox® is the first and only FDA-approved treatment to temporarily reduce the appearance of moderate to severe signs of aging.
Not only that, but Botox® can also:
Relieve jaw pain
Reduce tension in your facial structure
Alleviate headaches
Plus, it's the #1 selling product of its kind!
What you need to know
Many professionals "offer" Botox®, but not all of them are trained and educated in the product or your facial anatomy.
If you want natural-looking results, then you must seek a qualified medical professional who performs this procedure regularly.
For example, our Centennial dentist, Dr. Andrew Cote, received training in administering Botox® from the
Opens new tab to American Academy of Facial Esthetics website
American Academy of Facial Esthetics.
Timeline
A Botox® procedure takes less than 15 minutes. You will begin to notice results within 24 to 48 hours and can expect to see maximum results in one to two weeks.
Your results will last an average of 3 to 6 months, depending on where your doctor administers treatment.
Cost
The average cost of Botox® is around $500. This price will vary based on the location you want to be treated, and the number of Botox® units needed.
If you find prices significantly less than this, be careful. Most Botox® special offers of lowers prices are too good to be true.
3. Teeth Whitening
Teeth whitening is the most popular cosmetic dentistry treatment. It removes stains, discoloration, and yellowing to give you a bright, white smile.
Professional-grade teeth whitening – what you get from a dentist's office – can penetrate deeper stains and whiten your smile more than over-the-counter products.
Benefits
Here's why professional teeth whitening is so popular:
It's one of the most affordable ways you can improve your smile
The treatment is easy, straightforward, and noninvasive
It is safe and does not harm your teeth
There are multiple options to chose from like Whitestrips, take-home trays, and in-office treatments
It can minimize the look of wrinkles by drawing all the attention to your smile
A white smile will make you look younger and healthier
Results can last anywhere from six months to three years
What you need to know
There is always a risk of tooth sensitivity or gum irritation, especially with over-the-counter products.
Products like Whitestrips are created as one-size-fits-all. This means your dentist cannot adjust your treatment to your desired shade of white or tooth sensitivity. To achieve and maintain your desired shade of white, you may need to repeat the treatment more often than professional-grade whitening products.
Bad habits like consuming coffee, smoking, and poor oral hygiene can reduce the longevity of your whitening results.
Timeline
At-home whitening products typically require multiple treatments to achieve your desired results. These treatments may range from 15 minutes to one hour.
In-office whitening is generally completed in one appointment.
Teeth whitening results can last anywhere between six months to three years. To keep your whitening results as long as possible, you should:
Brush twice a day with whitening toothpaste
Floss daily
Visit your dentist for regular exams and cleanings to remove yellowish build-up
Avoid stain-causing habits
Cost
Over-the-counter products cost an average of $50.
Take-home whitening products cost an average of $400.
Opens new tab to Your Dentistry Guide website
costs an average of $650.
4. Porcelain Veneers
Porcelain veneers in Centennial, CO can give you a smile you have always dreamed of. These thin, tooth-colored shells are permanently placed over the front of your teeth to hide any smile flaw. Veneers can dramatically change your teeth's:
Color
Shape
Size
Length
Width
Alignment
Benefits
Veneers can give you a dramatic smile makeover without the need for extensive or multiple treatments. It is a fully customizable treatment, so your dentist can design your smile just the way you want it.
A skilled dentist will makeover your smile, so it looks and feels natural – like you were born with it.
Always wanted a celebrity-worthy smile? Our Centennial dentists use a high-end dental lab, which has redesigned the smiles of celebrities and social elite, to create your veneers.
What you need to know
Here are potential hazards with veneers:
Tooth sensitivity
Chips or cracks
Decay under the veneer
Altered bite
Unnatural looking results
Rest assured, these risks can be avoided by choosing an experienced dentist. One easy way to tell if a dentist is good at porcelain veneers is to check out their smile gallery's before and after photos.
Timeline
Porcelain veneers typically require two appointments.
This first one will prepare your teeth by removing a small layer of enamel to fit your veneers, and an impression will be taken to create your veneers. Many dentists will provide you with temporary veneers to wear in between your first and second appointments.
Your permanent veneers will be placed during your second appointment.
Porcelain veneers last between
Opens new tab to Healthline website
10 to 15 years on average.
Cost
The average cost of a porcelain veneers is $925 to $2,500.
5. Cosmetic Bonding
Cosmetic bonding is a tooth-color resin that gets applied to your teeth to fix chipped teeth, whiten a stained tooth, change your teeth's shape, and more.
It's an inexpensive way to hide smile flaws and make your smile feel like new!
Benefits
Dental bonding is widely used because:
It costs less than other procedures like veneers
It only takes one appointment
It is tooth-colored and looks natural
It can hide smile flaws like chips and gaps
It can change your teeth's length, shape, and width
It can whiten a discolored tooth
The treatment does not usually require anesthetic and has no downtime
What you need to know
Unlike porcelain veneers, cosmetic bonding can stain and become discolored over time. It is also not as durable as crowns or veneers.
Timeline
Generally, cosmetic bonding can be completed in one appointment. With proper care, it should last between three to seven years.
Cost
Opens new tab to Everyday Health website
average cost of cosmetic bonding is $300 to $600 per tooth.
6. Crowns
A dental crown is used to restore a tooth's appearance, shape, strength, and function. It consists of placing a tooth-shaped cap over your teeth.
Benefits
Dental crowns are custom-designed to look and feel like a natural tooth. They are not subject to decay and are made of durable material to withstand years of wear.
Crowns are also used to replace missing teeth with a dental implant.
What you need to know
With an ill-made crown, your tooth underneath may be at risk for decay, and the degree of customization can vary from dentist to dentist.
Timeline
Traditional crowns require two appointments: The first visit is to prep and take an impression and the second visit is to place the crown.
The average life span of a crown is five to 15 years.
Cost
Opens new tab to Colgate website
average cost of a porcelain crown is between $875 and $1,400.
LEARN ABOUT RESTORATIVE DENTISTRY
Ready to improve your smile?
Now you know what treatments can improve your smile, it's time to find a dentist who offers what you need!
If you're looking for a cosmetic dentist near Cenntential, CO, contact us!
Homestead Dental is home to the best cosmetic dentistry treatments. We are conveniently located in Centennial, CO, and proudly serve our surrounding communities, including Highlands Ranch, Englewood, Lone Tree, Greenwood Village, and Littleton, CO.